Greetings, Gentle Creature!
As of this particular nanosecond,
Excellent Good Friends like you have visited my Electronic Domicile.
In case you do not know me, I am Hearne, the Eccentric One. I teach English in Scottsdale, Arizona, to some darn swell high school students. To the left you will find links to academic concerns. Below are completely frivolous links included here for my amusement as well as yours.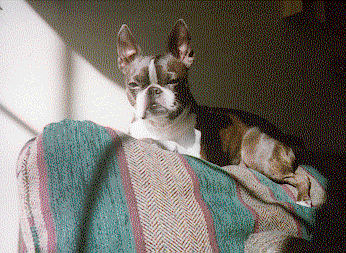 Boston Terriers are Excellent Good Friends. This is my friend, Emily. Here are some more pictures of Emily and my pug, Teddy.

Dude, this page was like, modified, you know? on April 20, 1999.
This page has been brought to you by your friendly neighborhood English teacher, Kevin Hearne. It was sponsored in part by a grant from the letters Q and X, and that tasty little number 9.